About Babylit Books
"
With the timeless popularity of classic writers like Lewis Carroll, Charlotte Bronte, Jane Austen, and William Shakespeare, BabyLit® is a fashionable way to introduce your toddler to the world of classic literature.
At BabyLit, we believe in the power of reading. Why? Because books take us places. Good places. And when we read with a child, we go places together. It's more than just reading. It's learning. It's experiencing. It's growing. If a million copies of our books encourage just one parent to read with their child, we will have succeeded. And printed a lot of books.
So while the world wonders why babies need classic literature, we will be reading."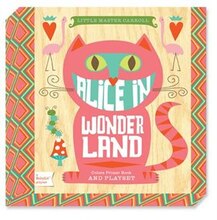 I was given three wonderful books, The Jungle Book, Alice In Wonderland, and The Adventures Of Huckleberry Finn. Before I even opened a book, I was impressed, Babylit Books aren't your typical baby board book. It's very thick and sturdy, looks like it will hold up very nicely. Every book was also very beautifully designed with lots of bright colors and pictures. Babylit takes stories that all of us love and make them toddler friendly. They explain the story line in a very easy to understand way, its short enough that children won't lose interest, and makes you wanted more.
The Adventures Of Huckleberry Finn
The Jungle Book
Alice In Wonderland